I can't fully explain how passionate John and I are about real estate. We genuinely love all facets of the business, from negotiating tough deals to staging Chicago condos and renovating luxury homes in the North Shore. We are full-time real estate brokers and trusted advisors for our clients, and we always strive to make working with us an enjoyable and successful experience.
In between helping our customers buy, sell and renovate, we work on our own personal real estate projects. Those projects reap huge rewards for our clients because we've done it all. We've been through the challenges and changes and wonky budgets and timelines. Our experience helps us empathize with our clients, and because of our 20 years immersed in all things real estate, we can help avoid many stressful situations. We've also amassed a huge network of great vendors and collaborators. People we've worked with and trust (and we like to share).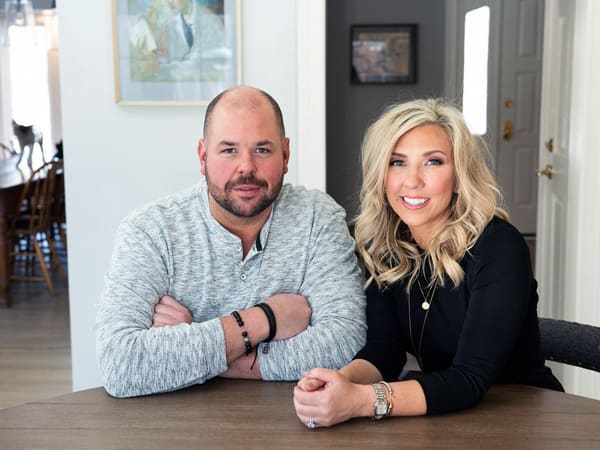 So we have recently been asked, why Compass? Who is Compass? What is Compass? In all my years in real estate, I frankly didn't think the brokerages I aligned with made much difference for my clients. Ultimately, buyers and sellers choose to work with John and me because of our approach and skillset, not because of the logo on our business cards. That said, once we moved to the North Shore, we knew it was important to connect with a brokerage with local name recognition and boots on the ground. A lot of big brokerages have approached us over the years, but absolutely nothing compared to when we sat down with Compass. The way they look at the real estate industry and the emphasis they place on client service, technology, marketing, and agent support was exactly what we had always wanted but honestly didn't think existed. There was no question that we had found our new real estate home in Compass.
One of the first things we did after joining was sit down with our AMAZING marketing department and update all of our team brandings. I'm super proud of what we've created! Our OG logo is so fun, and we have so much great OG swag. Our clients have loved the bags, shirts, hats, and even cookies, and we've had so much fun making them!

But beyond tote bags and cookies (but I seriously love tote bags and cookies), Compass has allowed us to take real estate to a level we could only dream of, and that's translating to many more successful transactions for our clients. Take Compass Concierge, for example. With this exclusive program, projects such as painting, updating a kitchen or bath, adding new floors or improving your landscaping can boost your sales price without putting you on the hook for upfront costs. Compass Concierge covers a long list of improvement projects, pays the bills and recoups the charges after the sale has closed — with no interest or added fees, ever! This type of program is unheard of, and it's one of the best things that could happen to our clients. Honestly, even John and I thought, "This has got to be too good to be true." But it's real!
For buyers, it means a more substantial portion of the homes entering the market will be updated and move-in ready. That's especially important to Millennials, who now comprise 60 percent of prospective homebuyers. For sellers, we can execute the renovations necessary to appeal to buyers and deliver far more return on investment than if they sold their property as-is. I find this works especially well in North Shore and Chicago neighborhoods with a lot of inventory, long market times or dated housing stock. With Compass Concierge, you really have an opportunity to stand out from the crowd and sell your home for more money, with a faster market time. I like to compare it to flipping a property for profit — you just happen to be living in your flipped house!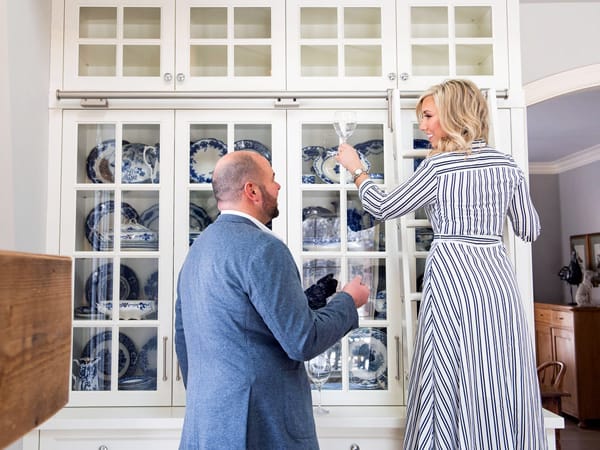 Our first Compass Concierge project was for a Chicago condominium owner. The property had failed to sell with another Realtor® after four months on the market. Luckily, he was then referred to us! We gave him our advice on what it would take to sell his home, and we suggested he make some updates using Compass Concierge. He agreed, and within weeks, his run-of-the-mill maple wood kitchen was transformed into a fresh and modern kitchen. We moved a small doorway in the master bedroom to create a walk-in closet. We also painted the unit and made a few minor updates to the bathroom. Two weeks later, his house was staged, professionally photographed, and ready to sell! We received three offers in the first four days, and our seller made $25,000 more than he expected!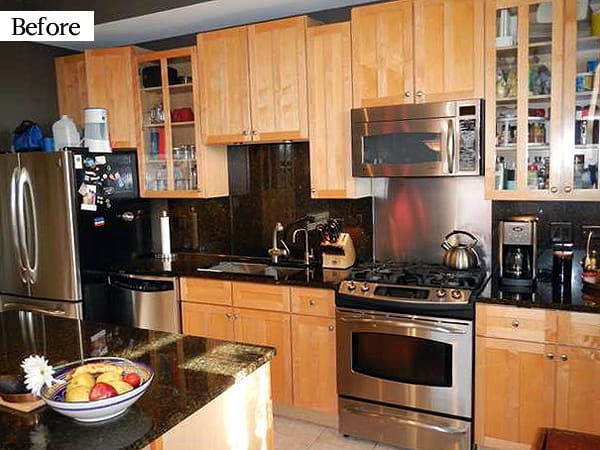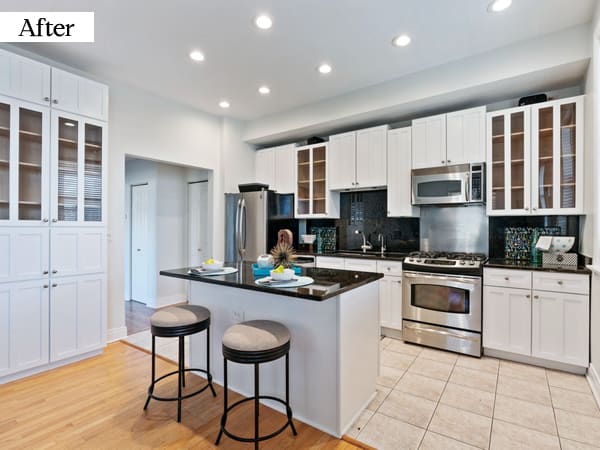 In another example, a Lake Forest property will net roughly $100,000 more than it would've with no updates, all for about $75,000 worth of renovations paid for by Compass Concierge. If you want to learn more about what Compass Concierge can do for you, drop me a line!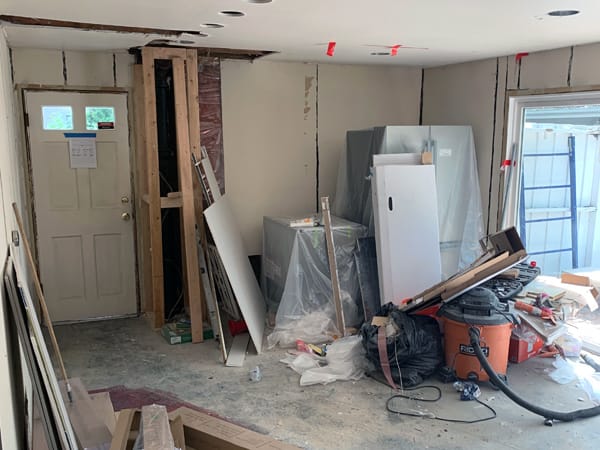 Speaking of renovations, thanks again for following along on our home renovation adventure. The response to our first post has been great, and trust me, we can't wait to start showing you the amazing before and after photos! But let's be real, a full home renovation is no joke, and the current (honest) update on our Modern Oak Home is that we are about 75 percent done. Unlike a Compass Concierge project, where we aim to complete renovations quickly to get the property to market, our own full gut-reno is subject to delays both voluntary and involuntary.
That said, this is a blog about the realities of renovating, so we aren't going to sugarcoat it and show you a bunch of pretty, staged pictures (but, trust me, I really wish we were at that point!). Nope, instead, you are getting the authentic view of our lives while we lived through a renovation.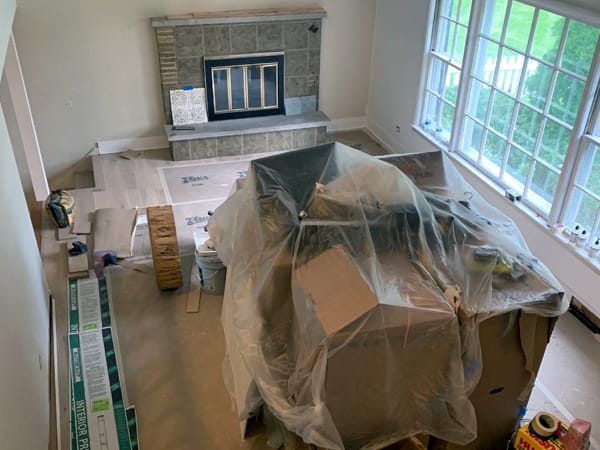 To be honest, we hadn't planned to live in the house through the bulk of the renovations, but of course, delays happened. We had to let our first general contractor go, hire a new one and deal with myriad typical construction setbacks. We had a hard deadline around Lincoln starting at the local Kindergarten, and here we are, living among boxes and supplies and carpentry equipment. We have eaten A LOT of pizza, mac 'n' cheese and chicken nuggets. Lincoln has been beyond thrilled about this diet, but I think towards the end, even she was craving some veggies! Thank goodness, our oven was installed in December, and our eating habits (if not our surroundings) are improving. Once the oven and countertops were in, we even took a break from renovating over the holidays.
Plus, we always put our clients' needs first. So much so, that when we had a few Compass Concierge projects in December and January, we lent our amazing contractor, Jose, to our client's projects. This week, Jose and his team are back at our house, finishing our backsplash. YAY!
I can't wait to share more Modern Oak Home updates with you, so stay tuned! In the meantime, I'll be posting more info about the amazing Lake Forest community and the many other real estate adventures we live through every day outside our own construction zone!
Home Renovation, Lake Forest, Modern Oak Home, The Oertel Group, Chicago Realtor®, Chicago North Shore, Interior Design Inspiration, Design Inspo, North Shore Chicago, Chicago Real Estate Agent, Home Inspo, Lake Forest Homes, Winnetka, House Goals, Home Decor, Interior Decor, Interior Design, Compass, Compass Concierge, Lake Forest, Illinois, Lake Forest Homes For Sale, Lake Forest real estate, Lake Forest, Wilmette, Wilmette Real estate, Chicago Realtors®, Glenview Realtors®, West Loop Realtors®.