We are so excited to announce this project with our Chicagoland followers and those following us from all over the country! You may or may not know, but Nashville has been on the rise over the last several years. People are moving to Nashville in droves, because, what's not to love about Nashville?!
Meet Jonathan Heard, a Nashville native, specializing in land development and new construction. He and his business partner Lacey Newman have made it their mission to help improve their hometown through working with strategic, thoughtful developers. Currently, Lacey is the leading luxury listing agent in the Green Hills area. She has curated an effective sales strategy for hundreds of clients including industry leaders, celebrities, and professional athletes! Together, Jonathan and Lacey make a powerhouse team that has been working in Nashville real estate for over 15 years!
So where does the Chicago-based Oertel Group come into the picture with Nashville-based Jonathan Heard & Lacey Newman?
The Oertel Group is Compass' official Chicagoland/Nashville Ambassadors of Eden House! That means that we work closely with the sales team and have all of the behind-the-scenes information on Green Hills' first high-rise condo development. But, we do it all while representing you as the buyer. As luxury experts in the Green Hills area, we are uniquely qualified to educate you not only on this project but all real estate in and around the Green Hills area! With the Heard/Newman team being a top producing team for Compass in Nashville, we thought this important connection between our two teams within the industry, would make a great blog post to share with our collective readers!
Read all the way through to find out more information about what makes Nashville such a real estate hot spot, its booming job market, and all of the amazing luxuries and conveniences that Eden House has to offer!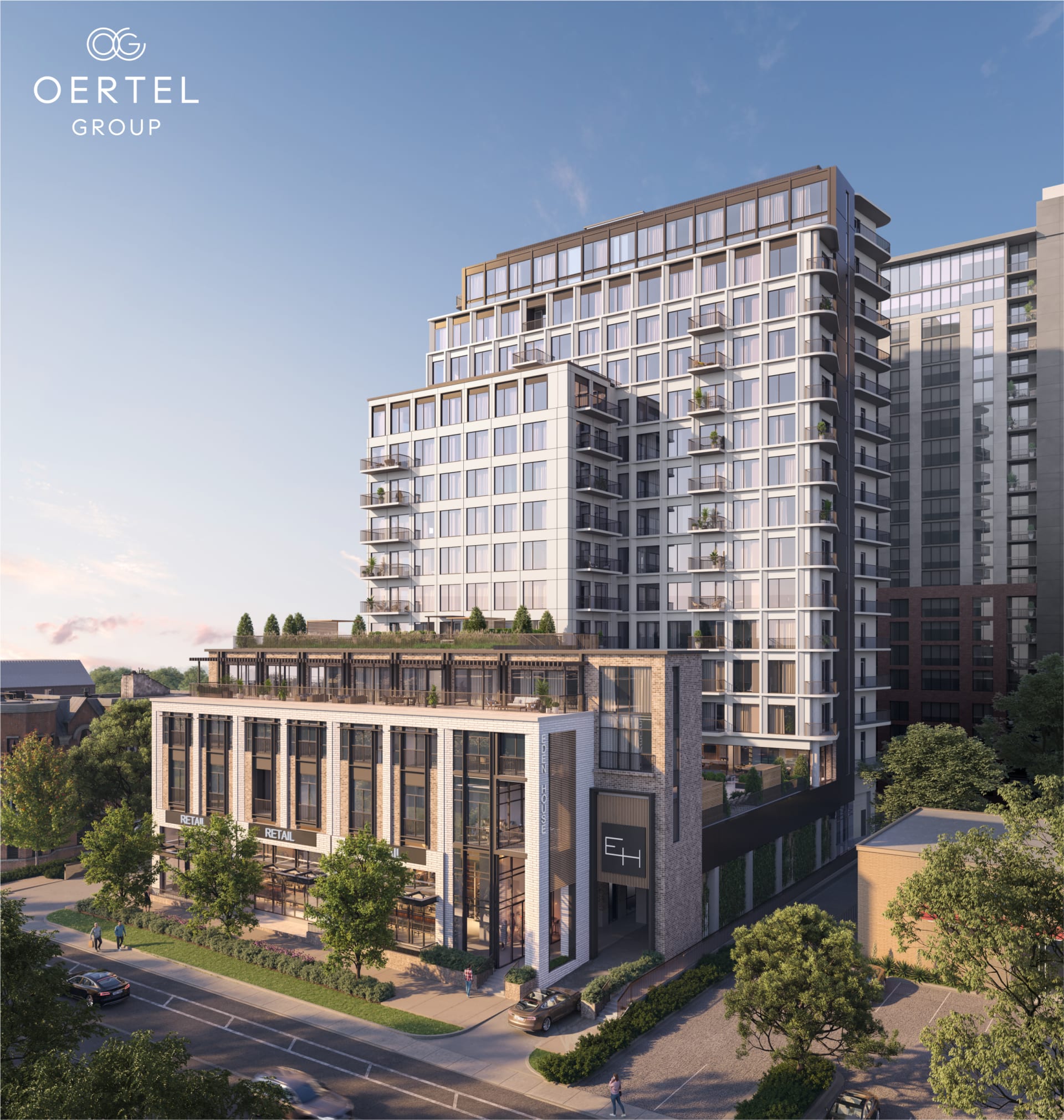 What makes Nashville such an amazing place to live? What do you attribute to the sudden influx of new residents moving to Nashville?
Soul-moving live music plucks on your heartstrings every time you walk past a restaurant or bar! Great weather and a reliable four-season climate ensure beautiful outdoor enjoyment year-round. A vivid and historic art and cultural scene are woven into the brick side streets while colorful murals adorn Nashville buildings. A booming economy with strong job growth ensures long-term success, security, and peace of mind
Nashville lives along the peaceful shores of the Cumberland River. The Great Smoky Mountains offer weekend revelry in the coveted natural beauty of the American Southeast. And in Nashville's backyard, the city is home to 56 golf courses, over 200 public parks, 80 miles of paved trails, and more than 30,000 acres of inland lakes!
Turning indoors, Nashville excites and entertains through live music opportunities while award-winning museums, galleries, performing arts centers, and auditoriums make Nashville an international melting pot of culture and creativity. For a night out on the town, the 'Entertainment Center of the South' never ceases to amaze with world-class dining, luxury shopping, and major sporting events.
With low taxes and a blossoming development market, Nashville is attractive to both families and businesses, with over 81 people moving to the city each day and entire companies relocating almost overnight.
ULI's annual "Emerging Trends in Real Estate Report" describes Nashville as a supernova and "the explosion of a star that creates unusual brilliance, but more generally the term refers to things that explode into prominence or popularity. So it is with the five metro areas in this new category."
Nashville Employment and Growth:
#1 Metropolitan Population Growth

#3 Cities for Young Professionals

#4 Best Place to Start a Business

#7 Best Cities for Millennials

#5 Cities Americans Are Flocking To

#4 Cities Creating the Most White Collar Jobs

#8 Best City in the US

3.7% Unemployment

2M Nashville Population
As for the job market, recently, the following corporations have recently expanded or relocated to the Nashville area!
Amazon

Bridgestone

Oracle

Dollar General

Alliance Bernstein

Tractor Supply Co

HCA

Asurion

Nissan

Wow, that all sounds so amazing! Let's get to Eden House! What makes it such a special luxury development for the area? And, for our readers, can you explain a bit about Green Hills, Nashville, where Eden House is located?
Eden House is a new era of luxury living in Nashville's most coveted neighborhood, Green Hills! Eden House offers an incomparable lifestyle of sophistication with well-appointed amenities and ninety-two residences that span over sixteen stories!
An offering like Eden House has been long-awaited in the Green Hills neighborhood. Until now, the desirable high-rise lifestyle has only been available to downtown residents. With the exception of the uber-successful, luxury lease opportunity adjacent to Eden House, Vertis. We have already seen a large demand from existing Vertis tenants, who would rather own than lease, including a penthouse prospect currently under negotiations. Residents in Green Hills desire a lifestyle of ease and accessibility, which is why the unique positioning of Eden House is in high demand.
Appropriately titled, stepping into Green Hills and Forest Hills feels like escaping into an arbor fairytale! Though the neighborhood is just blocks away from Nashville's most prized shopping districts, high-end retailers, famous restaurants, and excellent schools, the mature forests of the Green Hills/Forest Hills region have been preserved and well-tended. Offering an idyllic setting of shaded, wooded, private living right in the heart of Music City.
An affluent but quaint neighborhood, 15 minutes from the core business district of Nashville. Green Hills is known for its bustling new development, historic homes, dining, and shopping!
Can you paint us a picture of what daily life looks like when living at Eden House? We want the specifics! When you walk out your front door at Eden House, what will you find?
Here are some of the conveniently located businesses nearby and how long it takes to walk to each!
Trader Joe's: 2 minutes

The Mall at Green Hills: 7 minutes

Whole Foods: 6 minutes

Donut Den: 3 minutes

Green House Bar and Food Co.: 8 minutes

True Food: 1 minute

The Wine Shoppe at Green Hills: 7 minutes

Crow's Nest: 10 minutes

YMCA: 9 minutes

Compass Nashville Office: 1 minute
Lacey lives within a two-minute walk of all of these areas. She loves her morning walk to the office, grabbing lunch at True Foods, and winding down her day with some oysters and a glass of wine from Santo! Jonathan loves being close to all of the development projects put together by our team. But he also enjoys the golf course where the work really takes place! He also loves finishing his day with his developer friends at the Corner Pub before a short 8-minute drive back to his house in neighboring Forest Hills.
What about on property, what are the luxury amenities that Eden House offers its residents?
24- Hour concierge

Private residential lobby

Arrival/departure lounge

Package and grocery storage

Resort-style pool

5th Level Great Lawn with fireplaces and outdoor kitchens

Golf simulator

Fitness center

Yoga room

Chef's kitchen

Dining/wine tasting room

Grilling stations/outdoor kitchens

Communal lounge and bar

Guest suite

Bike storage

Pet wash/grooming

Pet relief area

Storage available for purchase

Conference room

Coffee lounge

Pool cabanas

Fitness/yoga lawn

Steam room

Co-working lounge

Billiards room


For full-time residents or families looking to make the move to Eden House, can you give us the specifics on proximity to schools, parks, airports, etc?
Yes, of course!
Hillsboro Village (11 mins), 12 South (12 mins)

Sylvan Park + the Nations neighborhoods (13 mins)
Zoned Schools
Julia Green Elementary

JT Moore

Hillsboro High School
Nearby Private Schools
Harpeth Hall (6 mins)

MBA (10 mins)

CPA (14 mins)

Lipscomb Academy (5 mins)

Harding Academy (11 mins)

Ensworth Lower School (12 mins)

Ensworth High School (17 mins)
Universities
Vanderbilt (11 mins)

Belmont (9 mins)

Lipscomb (5 mins)
Nashville Sports Complexes
Bridgestone Arena (14 mins)

Nashville SC Stadium (14 mins)

Nissan Stadium (18 mins)
Nearby Parks
Centennial Park

Fannie Mae Dees Park

Percy & Edwin Warner Parks

Radnor Lake

Sevier Park

Shelby Bottoms Nature Center

With the airport just 16 minutes away from Eden House!


For our readers interested in owning a piece of Eden House, what are the price ranges of these stunning residences? And where can they get more info?
Eden House homes will range from 913 to 3,031 square feet. Pricing starts with one-bedrooms offered at $700,000 to penthouses listed at over $4M. You request a copy of Eden House's flip book at: [email protected]
Thanks so much for all of this amazing information on Nashville and Eden House!
We are so excited and honored to be a part of this amazing project! We also look forward to connecting with you guys more! The next time you are in the area we can't wait to roll out the welcome mat and introduce you to the Nashville way!