In every design blog and magazine these days, you'll find an impressive array of large walk-in pantries and secondary kitchen spaces gracing high-end homes. Even before COVID-19 created a renewed appreciation for home cooking and bread making, these extra-large pantries — often labeled walk-in pantries, butler's pantries, working pantries, or sculleries — were earning spots on top kitchen trend lists.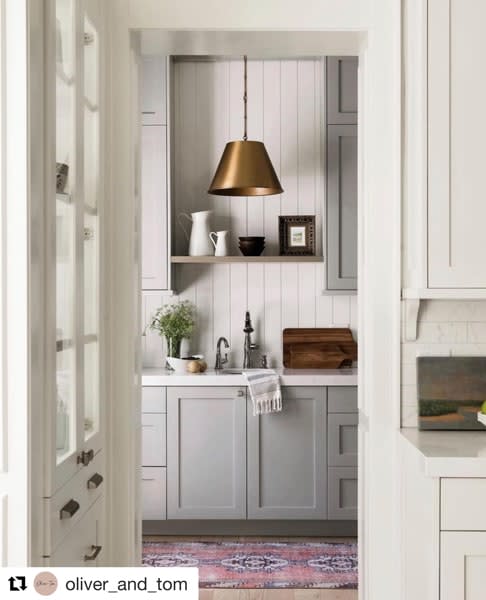 A chic butler's pantry courtesy of Oliver & Tom on Instagram
The Wall Street Journal goes so far as to call these supersized pantries the "new designer shoe closet" for their ability to dazzle homeowners and visitors alike. For that, at least partial credit goes to The Home Edit, the home organizers whose book and Netflix series spread images of meticulously arranged, rainbow-colored pantries across the social media landscape. But more than a backdrop for fastidiously labeled, airtight containers, real working pantries stow appliances and feature extra counter space and sinks as well. They become a one-stop-shop for kids hoping to select and microwave a snack or for sous chefs to help with slicing and dicing. They serve as a prime location for keeping secondary refrigerators and dishwashers within arm's reach and the perfect place for party clean-up, even while guests are still on-site. And, in the COVID era, when waves of ingredient scarcity have been a common occurrence, the visual nature of these spacious larders becomes a soothing reassurance that all will be well.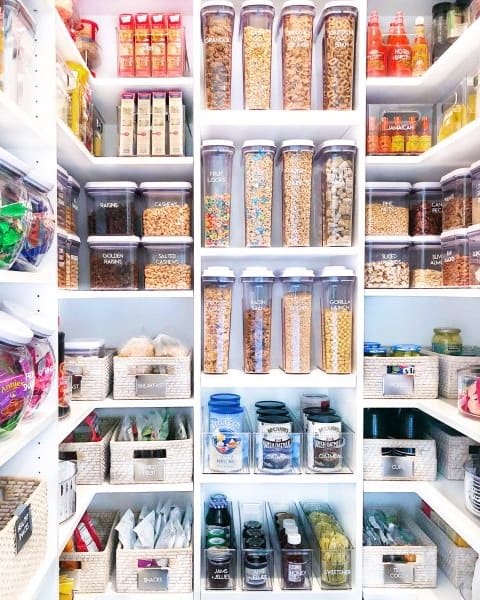 What is the best location for these workhorse kitchen cohorts? Many layouts position pantries between the formal dining room and kitchen, where the traditional butler's pantries in Colonial and Victorian homes were located. This arrangement gives the pantries appealing but somewhat narrow accessibility while providing a destination for formal serving pieces, beverage centers, and the staging of multicourse meals. Other walk-in pantries occupy a more square-shaped position off the main kitchen, frequently concealed behind cabinet-style doors that give no sign of the organizational mecca beyond. For some homeowners, there's a desire to soup-up pantries enough to create almost two full kitchens: one an open, neat-as-a-pin space where guests might congregate around a center island for conversation and cocktails, and another closed-off room where the real work takes place.
Like custom closets, the wonderful thing about walk-in pantries is their ability to suit their inhabitants perfectly. The bakers among us might prefer easy access to a stand mixer, plenty of counter space for rolling out dough, and even a second oven. Coffee aficionados will want a built-in coffee or espresso system, wine lovers will seek temperature-controlled storage, while households with young snackers will require ample shelf space.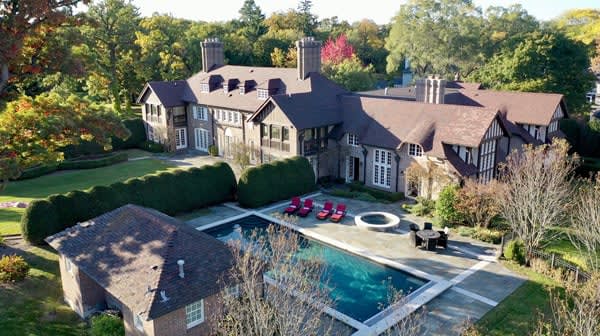 At our gorgeous listing at 395 Green Bay Road in Lake Forest, there's no need to choose just one type of kitchen or pantry: The spectacular 14,293-square-foot estate has three Instagram-worthy spaces to suit daily living and formal entertaining needs. First, there's the sprawling and light-filled open kitchen anchored by a massive center island/breakfast bar and filled with upscale appliances, including two refrigerators, two dishwashers, and a 60-inch Wolf range. The adjoining breakfast room features a fireplace while French doors open to the serene courtyard, making dining al fresco irresistible.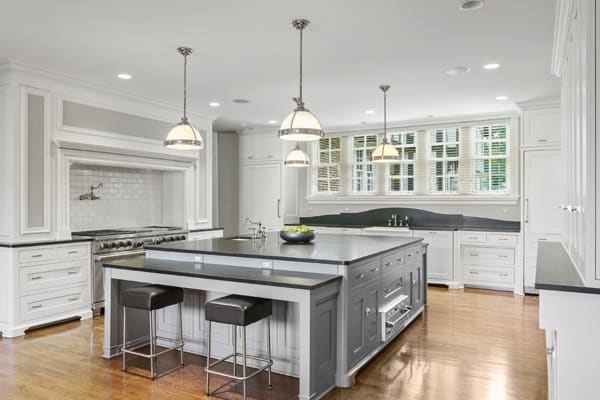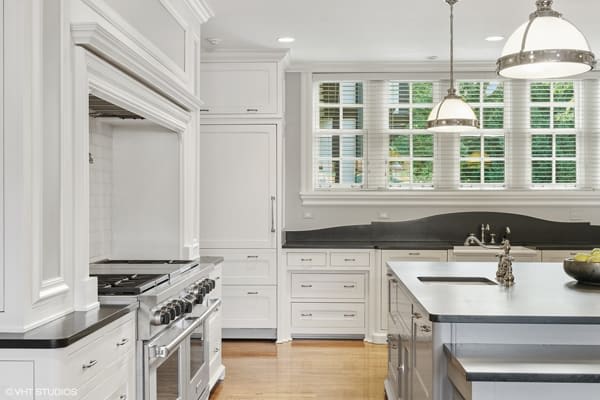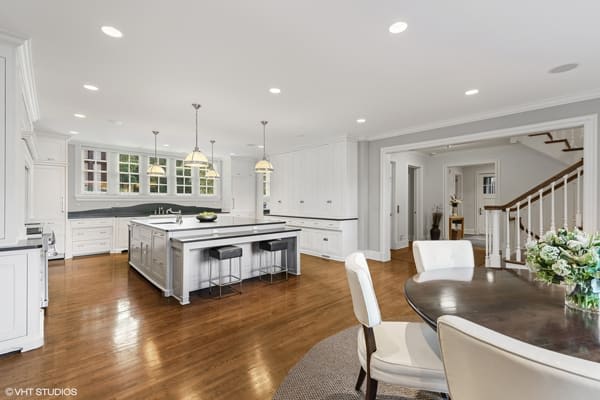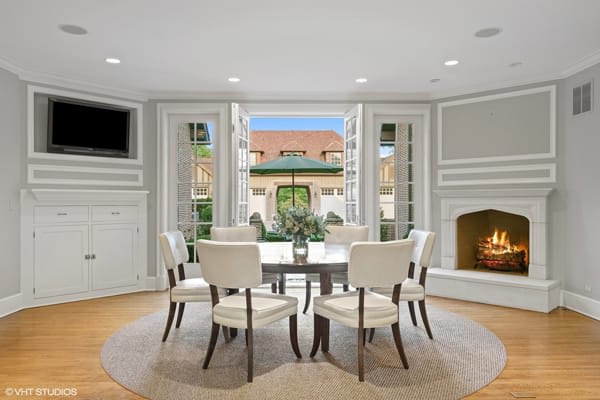 Just off this world-class kitchen and close to the formal dining room, a huge walk-in pantry boasts a wide German Silver Sink, providing a dash of old-world craftsmanship to the space. Offering both style and functionality, this handsome vermeil sink originated in 1800s Germany and is regaining popularity in modern kitchens and pantries for its ability to slay anything large parties can dish (pun intended) out. The butler's pantry also includes ample counter space for prep work and appliances plus an array of cabinetry to neatly stow serving wear, small appliances, table linens, and so on.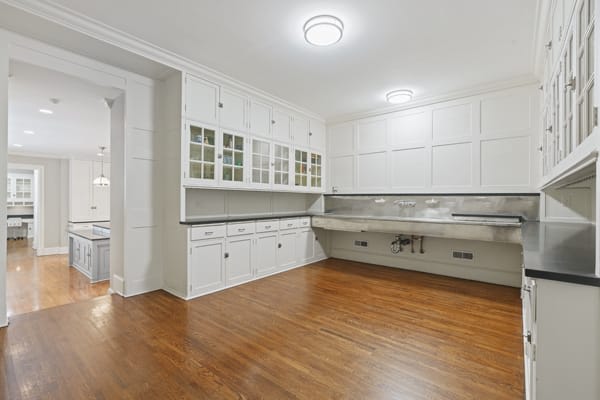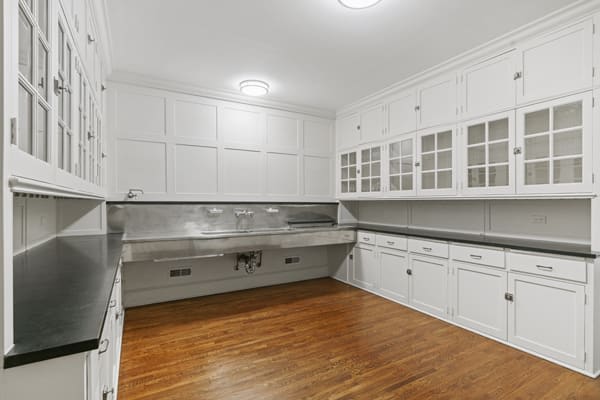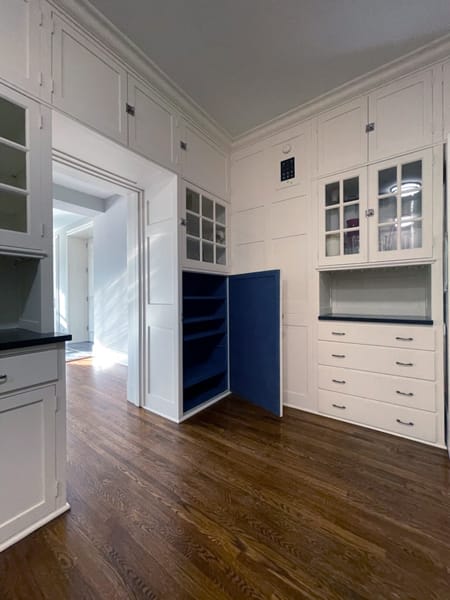 The opposite end of the kitchen opens to an office perfect for managing the vast seven-bedroom estate, AKA the "commander center." Two desk spaces are surrounded by more custom cabinetry, drawers and mail slots. You'll also find a smaller pantry here, ideal for stocking snacks and dry goods.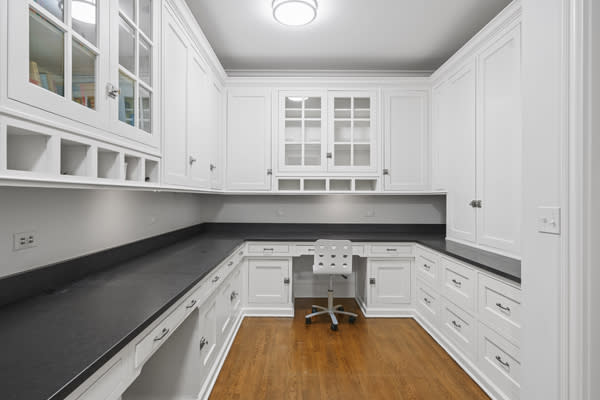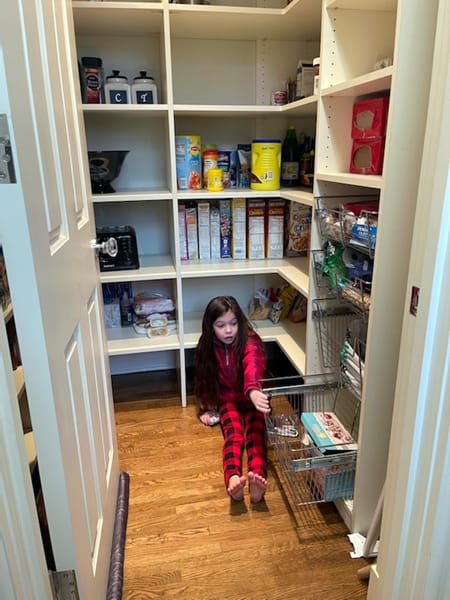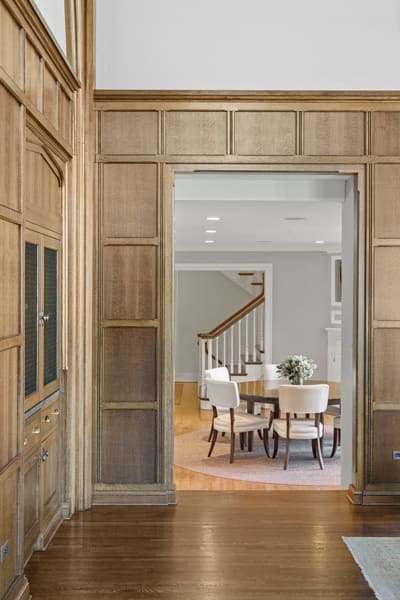 The rest of this estate, situated on lush 7.5-acre gated grounds, includes a breathtaking formal living room, a great room, a library, up to five private home office spaces — ideal for work or study — plus luxurious bedroom suites with en suite spa bathrooms. Abundant storage rooms, two dedicated wine cellars, and a laundry room filled with cabinetry and a packing island show the home is equally devoted to luxury and utility.
To learn more about 395 Green Bay Road, or find your next pantry-worthy home, be sure to give us a call. We'd love to make your kitchen organization's dreams a reality.
Pantry, Kitchen, Home Renovation, Lake Forest, Modern Oak Home, The Oertel Group, Chicago Realtor®, Chicago North Shore, Interior Design Inspiration, Design Inspo, North Shore Chicago, Chicago Real Estate Agent, Home Inspo, Lake Forest Homes, Winnetka, House Goals, Home Decor, Interior Decor, Interior Design, Compass, Lake Forest, Illinois, Lake Forest Homes For Sale, Lake Forest Real Estate, Wilmette, Wilmette Real Estate, Chicago Realtors®, Glenview Realtors®, West Loop Realtors®.