Spring has sprung! The days are longer and the birds are chirping. Maybe you've spent the last month spring cleaning corners of your home or clearing out your closets and you've come to realize that your space still needs a little something.
If you've been dying to freshen up your home, or maybe just give it a quick makeover before you list it on the market, this post is for you!
Two spaces that we love to refresh in homes before listing them are the Kitchen and the Powder Room! Are you surprised to hear that?!
The pandemic caused a huge shift in the way that we look at and think about our living spaces. Pre-pandemic, open concepts were surging in popularity. Seriously, you couldn't look at a listing or turn on HGTV without hearing the word "open concept". Just when we thought the open concept was here to stay, fast forward to today and homebuyers are now looking to create dedicated spaces out each room in their home.
Having a dedicated space in your home means that the flow of your home from the living room to the kitchen is no longer an intertwined, comingled space. It means that you are now looking specifically at how your kitchen will serve your life, and how it functions on its own as a gathering space for those girls' night charcuterie boards. And how your family will use this space when you are all huddled around the countertops on "create your own pizza night!" And just like that, it's time to make sure that your Kitchen and your Powder Room each have their own personality in order to better serve your home or that dreamy potential buyer you are hoping to land!
"From pink marble vanities in powder baths to vein-centric choices for kitchen counters and backsplashes, natural stone is showing up in more vibrant colors and patterns throughout the home this year. The more glam, the better! We've been incorporating this trend in fireplaces, kitchens, and powder rooms and looking forward to more to come in 2022. One thing to note: Marble does require more upkeep than other natural stones like granite, so keep that in mind before deciding to incorporate it in a high-traffic area such as a kitchen." —Designer Claire Staszak of Centered by Design in Chicago, Illinois
Kitchens
Look, it's no secret that John & Nicole of The Oertel Group are huge fans of natural stone! To see how deep our love of natural stone goes, you only need to check out this blog post collab where we talked with Calia Stone Boutique!
Having the right kitchen can be a high priority for a potential buyer. So it's important that any kitchen renovations you make create a vibrant and beautiful space. While yes, kitchen makeovers should be functional, it's just as equally important that they reflect their own individual personality through the design, and more importantly the color palette! For this reason, we love updating the backsplash in your home! When choosing a backsplash it is best not to clash with your cabinets and countertops.
Thinking about replacing the countertop? When choosing a beautiful stone countertop you may want to use the same stone as a backsplash to create a clean polished look. If your countertop is not very busy, perhaps white with only a vein running through it then choosing a fun tile pattern for a backsplash can be great too. If you are staying in the home long term go with what YOU love and hope to LOVE into the future. However, when we assist sellers with a kitchen remodel we typically choose more neutral tones that appeal to the masses and nothing too custom or bright as we don't want to turn away buyers.
If you are looking for specific colors that draw in the eye of a buyer, Neutral Quartzite always looks rich and classic! Calacatta is clean and classic, timeless Calacatta Macchia has some browns and gives a very rich look and depth.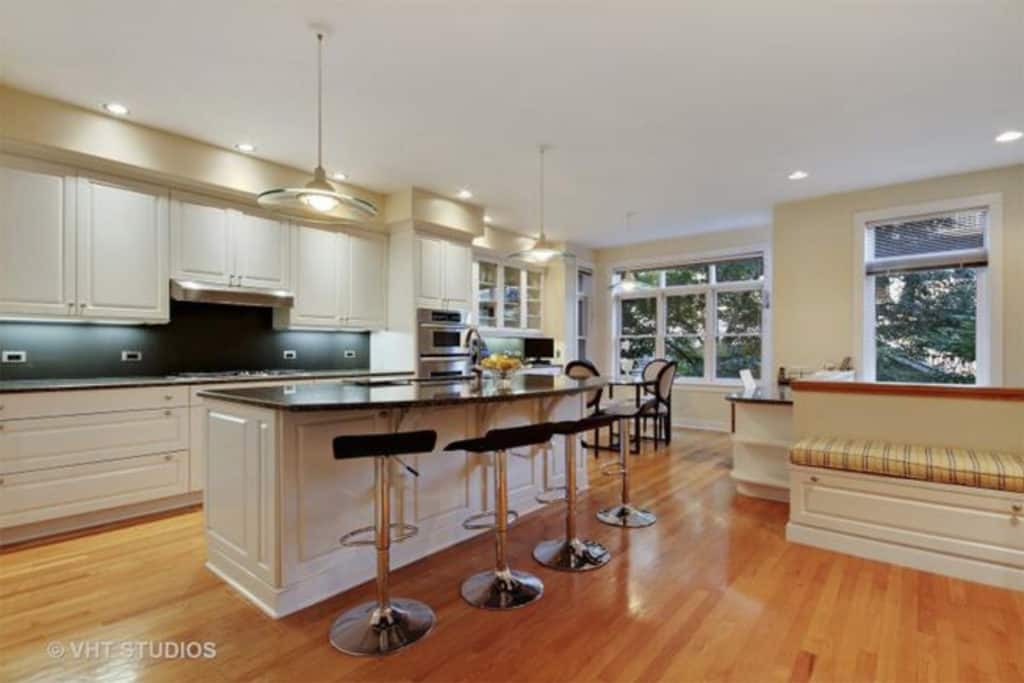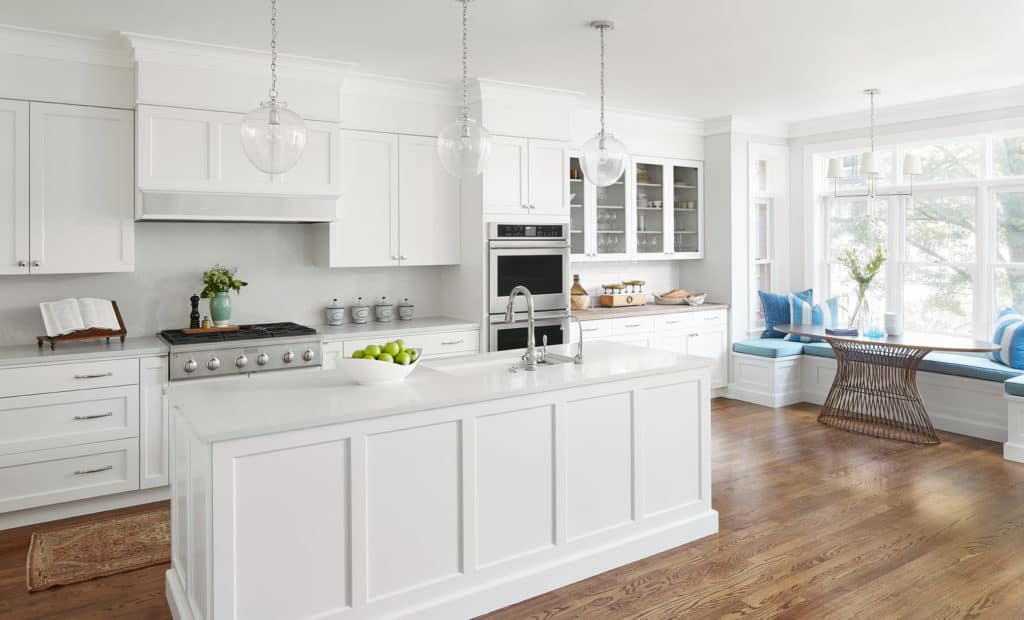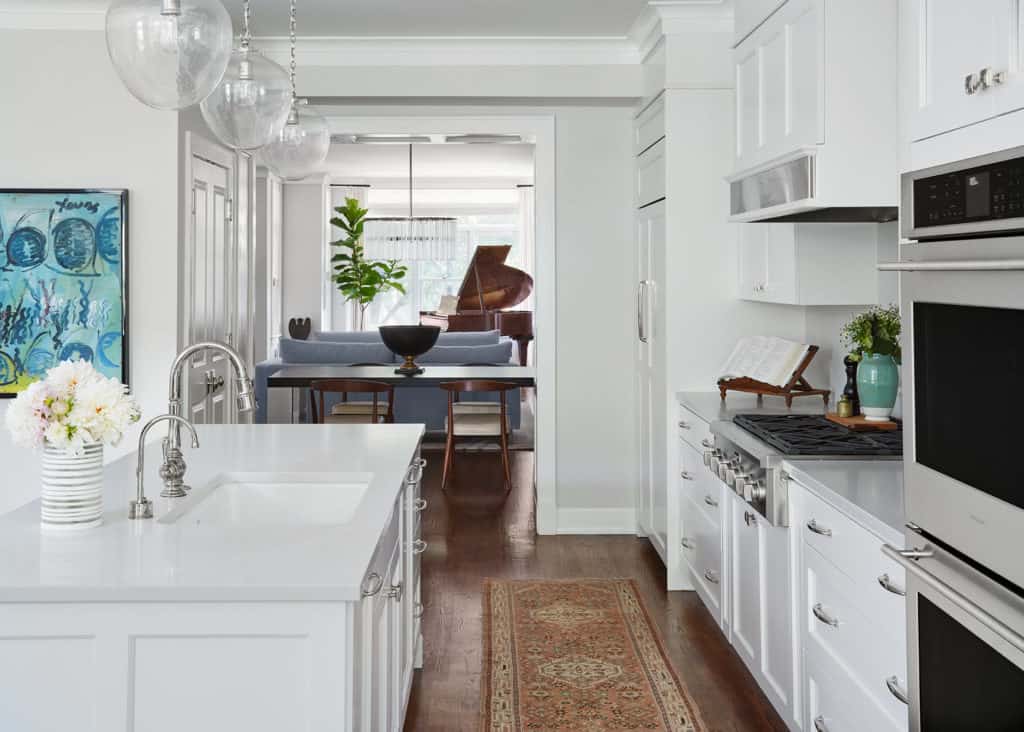 Powder Rooms
Another great location in your home that could easily benefit from installing natural stone! Sometimes referred to as a half bath, and not to be confused with a bathroom, a powder room will typically only contain a toilet and a sink. In larger homes, you'll usually find the powder room on the first floor. And no, you definitely don't have to knock down the cabinets to update the colors in your powder room! But, you could easily replace the knobs on those cabinets with something more sleek and sophisticated, while remembering that this seemingly small space in your home should also have its own personality.
Do you still have that builder-grade mirror hanging above your sink? It's time for that mirror to hit the road! And once it comes down, and before you hang the new one, we love the idea of updating that wall in your powder room with wallpaper! Yes, really! Wallpaper with the right pop of color is a great way to add personality to this tiny but mighty room in your home! This is where you can really put color to work. Don't be afraid to pick a fun color!! Emerald Greens to Bright Blues are amazing choices or you can keep it super clean with natural wood tones.
Stuck on tile choices for the powder room? Marble, marble, and more marble is never a bad idea for the powder room!
"I think this is a surprising place that clients like to spend money. It feels contained and special. A spot to go a little wild with the design and really splurge on one or two elements, such as a marble sink, expensive mosaic tile, or wallpaper. " —Designer Claire Staszak of Centered by Design in Chicago, Illinois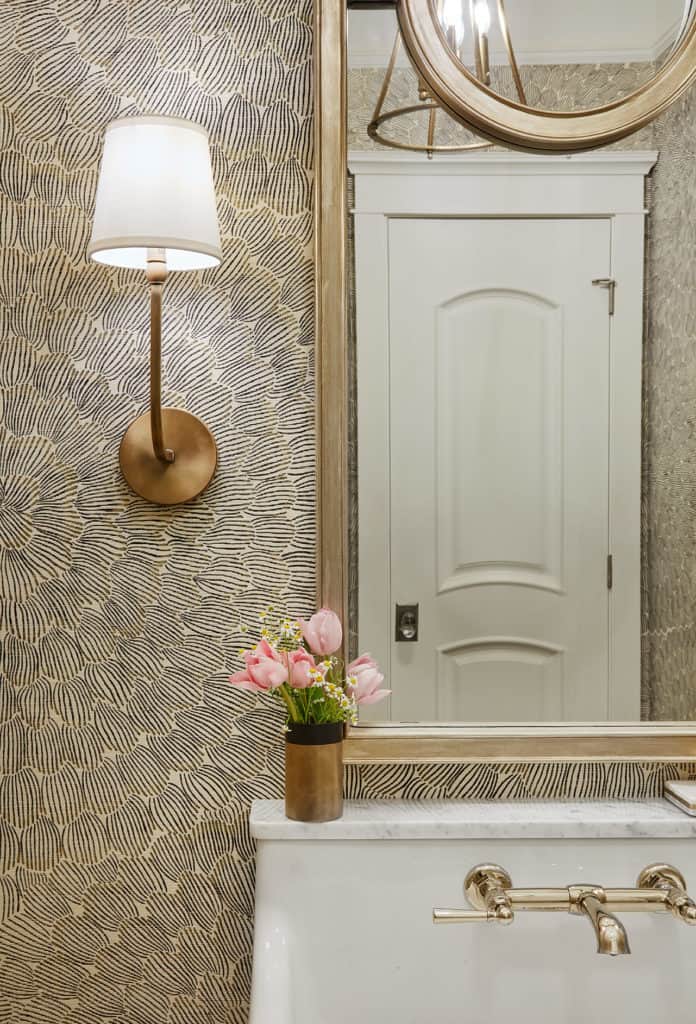 Image via Centered by Design
Ready to find your dream home in the Lake Forest or Chicagoland area? You can work with John & Nicole of The Oertel Group by contacting us here!